The NFL season is already a quarter of the way through and we can see some clear leaders in the league emerging. The build up to this season was anything but standard, and with some exciting offseason news and trades, we had big expectations for an interesting year. Now we're beginning to see how things have played out for certain teams and we're impressed with the results. Let's review the leaders of the AFC and NFC and discuss what's going right for these teams so far.
AFC
The competition in the AFC is fierce this season as things have gotten shaken up all around. While the Kansas City Chiefs were expected to be good this year, there was some shock success from the Buffalo Bills and the Pittsburgh Steelers who both have really evolved their gameplay.
Buffalo Bills
With the AFC East in disarray, analysts suspected that the Buffalo Bills could break out and make a big statement this year. However, few would have guessed that the Bills would be 4-0 and one of the top teams in the league. With their Josh Allen-led offense currently on fire, the Bills will certainly have strong odds leading into their upcoming games. As we review the team and see what it is they're doing right, it's clear that something is coming together for this offence.
Quarterback Josh Allen has been building his skills year after year and, at age 24, he is showing he can play well in this league. His synergy with receivers like Cole Beasley and newcomer Stefon Diggs has really helped establish this offence. Diggs, in particular, has had a great season thus far with 26 catches for 403 yards and 2 touchdowns. The Bills defence is starting to pick up as well and play consistently. Overall, this is a team that could really steamroll the opposition with the right momentum behind them. Their biggest challenge of the season thus far will come against the Kansas City Chiefs on October 19th. A win here will signal the bandwagons to start circling in Buffalo.
Pittsburgh Steelers
It's clear by this point that we are looking at another year where the Steelers have come out with a balanced and determined football team. In the discussion about ageing quarterbacks, there is always talk about Tom Brady, Aaron Rodgers, and Drew Brees, but everyone forgets to mention Steelers quarterback, Ben Roethlisberger. At 38 years old, Roethlisberger is still playing at an elite level and shaking off tackles left and right.
Thus far, the Steelers are sitting tight with a 4-0 record. When it counted versus the Eagles, the team really showed up at crucial moments. A lot of praise is owed to the newcomer receiver Chase Claypool, who has provided instant value and made his mark on the squad. Just four games into his career, he is already Roethlisberger's favorite target and his performance versus the Eagles included 7 receptions for 110 receiving yards and 4 touchdowns. Claypool is turning out to be a phenomenal pick for the Steelers.
Kansas City Chiefs
There can be a lot of pressure on the returning Super Bowl champions. When we reviewed the Chiefs through the draft and up to the start of the season, expectations were high again for this year. There was nowhere that the Chiefs looked to be lacking and therefore, nowhere to place blame when things went wrong. Thus far, the Chiefs look to be playing to their strengths and showing the league they want to be champions again. Losing to the Raiders 40-32 is a big letdown for sure, but one bump in the road is not going to stop this all-star offence.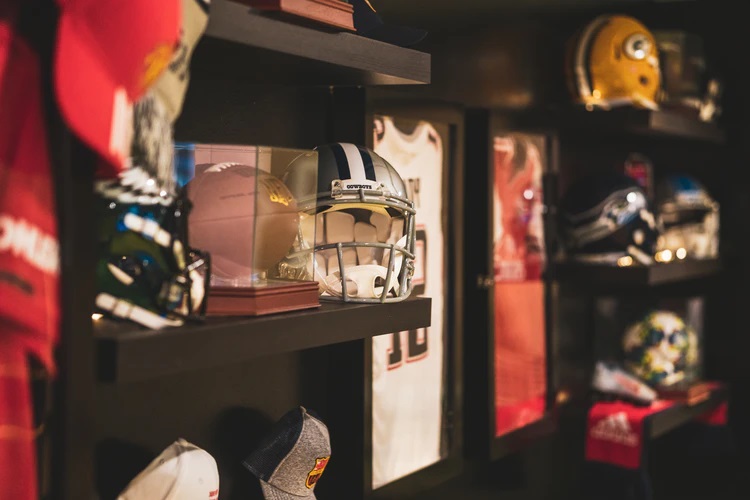 NFC
In the NFC, the power rankings are much murkier. Most teams are situated right at the middle of the pack like the Dallas Cowboys or New Orleans Saints. There are still some clear leaders, including the Seahawks and Packers, but there is ample opportunity for other contenders to emerge.
Seattle Seahawks
The Seahawks have pulled out some impressive wins thus far including a big win over the Vikings that called for a last-minute drive from quarterback Russell Wilson. This win put the Seahawks at 5-0 for the first time in franchise history. There's no denying that Wilson has single-handedly turned this team around and made them relevant. Whenever the Seahawks are down, Wilson manages to find a way to reclaim the lead. With a relatively easy schedule ahead for them, it's possible that the Seahawks will finish the season in the top three in the league.
Green Bay Packers
Every year Aaron Rodgers keeps pushing for that Super Bowl championship. With a strong 4-0 start to the season, you can see that Rodgers is still determined despite the odds. Even with a string of injuries on the squad, the Packers have still managed some clear and decisive wins over the Vikings, Lions, Saints and Falcons.
Awarding compliments where they are due, head coach Matt LaFleur has done a great job keeping this team unified and focused week after week. Due to several injuries, there have been some surprising performances from young players who have stepped up, like Krys Barnes the undrafted rookie who is currently second on the team in tackles. Without their star receiver Davante Adams, someone needed to show up as a playmaker. Tight end Robert Tonyan made a big statement versus the Falcons, catching 6 passes for 98 yards and 3 touchdowns. The Packers are showing surprising roster depth during an important time and, of course, Rodgers is back to playing like the elite-level quarterback he is. The upcoming Brady vs Rodgers grudge match in Tampa Bay on October 18th will really show where this team is competitive.
Chicago Bears
By far the most surprising addition to this list, the Chicago Bears, are currently 4-1. While some may say other teams deserve to be mentioned before the Bears, it's not often we get to discuss them so let's take a moment and focus on what is going right for the Bears thus far. Their first five games may not have been against the league's best, but they still won in style, including a big win over the Brady-led Buccaneers. What's impressive is most of these games would have been losses, but the Bears keep finding a way to pull out the "W" in the end.
Something tells us that the story of quarterback Nick Foles is far from over. Somehow, he continues to stay in the conversation and we believe getting back into a permanent starting role was crucial for him. He may be a bit of a journeyman but he is a veteran by now and knows how to win. Foles continuously makes the plays where they are needed and keeps a consistent and steady pace. Former pro-bowler Jimmy Graham keeps scoring touchdowns and is currently one of the highest-scoring players in the league. Another big-name player, Khalil Mack, showed up big on Thursday night versus the Buccaneers. This is an athlete that goes all-out on every play. There is a lot of talent here in Chicago but we will have to see if this team is for real when they start facing better competition.